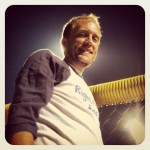 My name is Will Geoghegan. I'm a writer.
I was born in the wonderful city of Louisville, Kentucky. I went to St. Xavier High School then traveled north to attend the University of Dayton. I graduated in 2005 with a degree in communications. Soon after graduation, I moved to Rhode Island to take a job with Beacon Communications, and I've been in the Ocean State since.
After four-plus years as a sports reporter, I became the Beacon's sports editor in 2010. Beacon Communications publishes the Warwick Beacon, the Cranston Herald and the Johnston Sun Rise. I covered sports in each town, telling stories, taking pictures and putting it all on a page.
In 2014, I headed just a little bit South to become the sports editor at the Independent, which covers the towns of Narragansett, North Kingstown and South Kingstown in southern Rhode Island. I cover high school sports and University of Rhode Island athletics, including the Rams' Division I men's basketball program.
In 2007, I founded Right Field Fog, a web site that covers the Cape Cod Baseball League.
This website features my writing, photography and design work from the newspaper business. My resume is also available from the home page.